Flat Fee Listing
$995 plus .75% percent at closing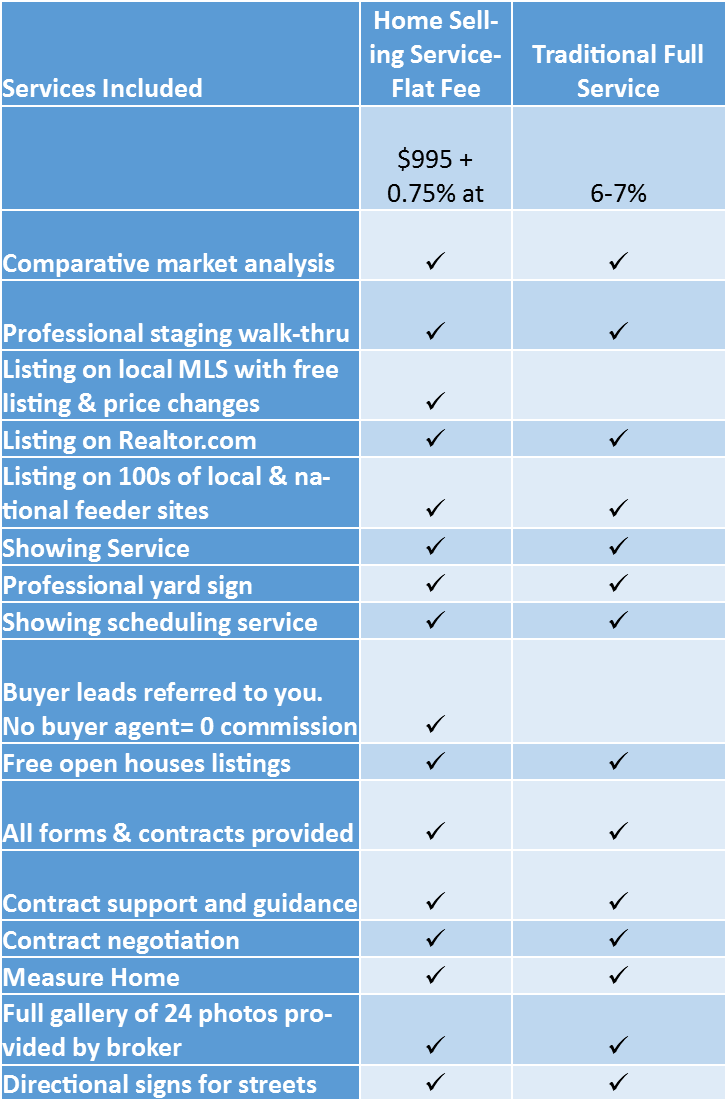 Uploaded to hundreds of Internet sites including Zillow, Realtor.com and Trulia
6 Month listing agreement
24 digital photographs of your home
Flyer design with PDF so you can print youself
Negotiation of offer
Professional yard sign
Open house
Lockbox
Professional managed showing service
Automated feedback from agents
Attend closing
All necessary contracts, forms, and agreements will be available
Free price, photo, bulletin and listing changes
On Site Comparative Market Analysis
Professional staging walk thru
Measure Home
Additional services you can request below:
Standard Virtual Tour – $250
Create You tube video for property -$250
Brochure box – $35
Listing extension for 3 months -$125 (must be advised in writing (10 working days in advance)
3D Virtual Tour – Price quoted provided by video artist
Individual website for home – quoted depending upon needs.

*Please note that you can hire any contractors you want to accomplish your goals. These prices above are sub-contractors we are familiar with. *


DEFINITION OF 'COMPARATIVE MARKET ANALYSIS' An examination of the prices at which similar properties in the same area recently sold. Real estate agents perform a comparative market analysis for their clients to help them determine a price to list when selling a home or a price to offer when buying a home. Since no two properties are identical, agents make adjustments for the differences between the sold properties and the one that is about to be purchased or listed to determine a fair offer or sale price. Essentially, a comparative market analysis is a less-sophisticated version of a formal, professional appraisal.